SEEBAD STARNBERG
We have a permanent station as well as a mobile SUP rental.
The permanent station SUP Club Starnberger See is located within the Seebad Starnberg.
SUP rentals and courses at the Seebad
S-Bahn station Starnberg
Strandbadstr. 17, 82319 Starnberg
Conveniences for your SUP experience: 10.000sqm sunbathing area, locker rooms, showers, restaurant, water slide, indoor swimming pool and saunas: seebad-starnberg.de
You will have to pay the admission fee for the Seebad to get to us.
This fee (4,80 € with a booking confirmation from us) is not included in our prices.
***Your benefits at the SUP Club:
>With a SUP Club booking confirmation our guests receive a 20% discount on the admission fee of the Seebad.
>Only with us: You can reserve online up to one day in advance.
>Best prices for rentals and courses
>Every paddle guest receives a free safety briefing including a how-to-paddle training and high-quality boards. We offer you a broad range of courses with experienced and well-trained coaches.
Please make sure you enter the Seebad Starnberg 30 Minutes before your scheduled booking time. There might be quite a queue in the summer.
We recommend coming to Starnberg on the S-Bahn or the regional train (exit station Starnberg). From there it's about 1 km following the lake northwards.
From the train station to the Strandbad is around 12 minutes by foot: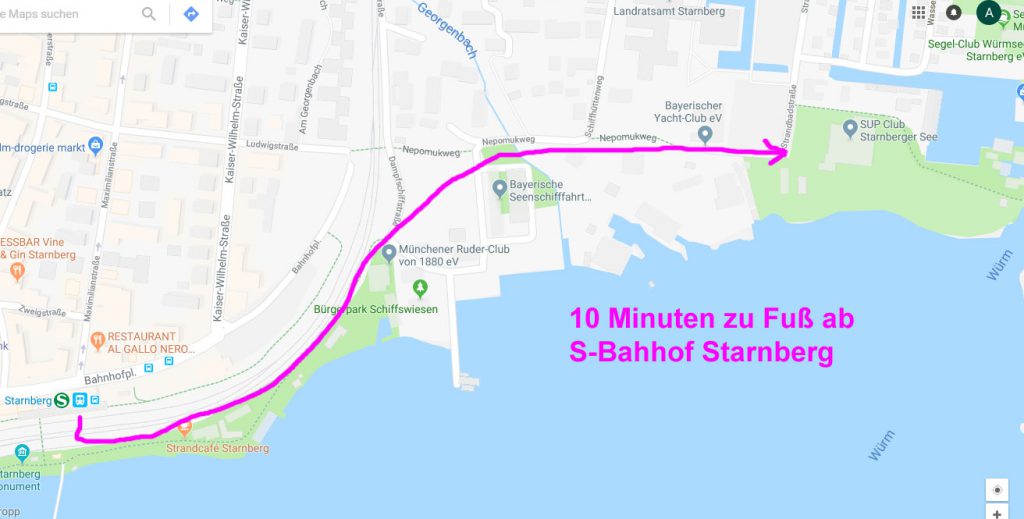 Parking at the Seebad is liable to costs. The first hour is free, every additional hour is 1 €. The Seebad refunds half of the parking ticket with the payment of the entrance fee.
There is a free parking deck at the S-Bahn station Starnberg Nord (15 minutes by foot)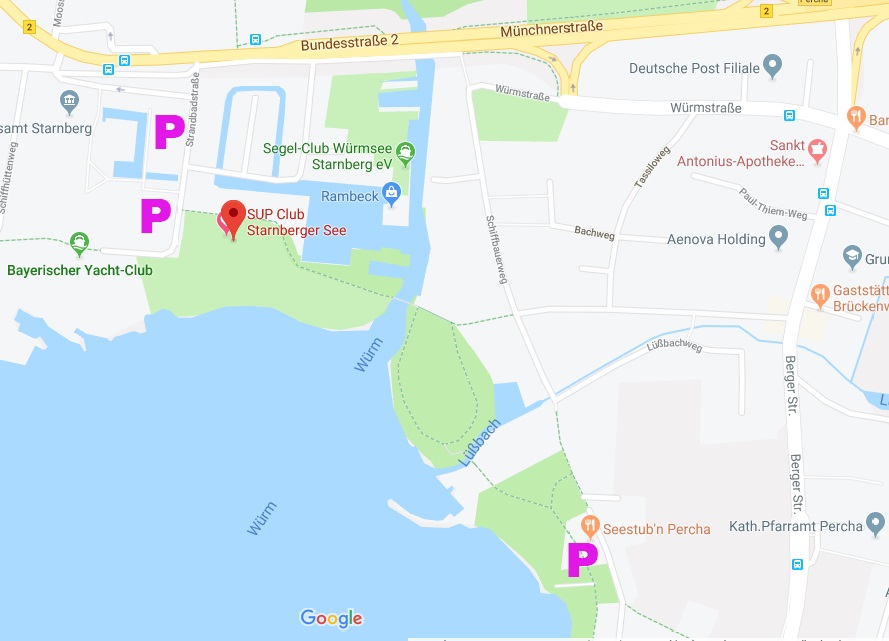 *Valuables can be locked in with us
*Please bring a valid I.D. card
*There are no cats and dogs allowed at the Strandbad 😉
SUP rental at the Seebad only with suitable weather:
Opening hours
Sa + So 9:00 a.m. – 19:00 p.m. (in May from 10:00 a.m.)
Mo-Fr 12:00 p.m. – 19:00 p.m. > with great weather from 10:00 a.m.
If you want to paddle earlier with several people -> call us!
No rental with continuous rain and storm.
If you want to paddle at a different time – talk to us!
Motivate your friends! Individual courses and tours from 4 people.
Courses see the program.
For current changes see
facebook.com/SUPCLUBStarnbergerSee