SUPMOBIL
You can order the mobile SUP rental from 6-20 boards where ever you want to within the 5-lake district!
Are you looking for FUN for the whole group? We will get you onto the water with our mobile SUP rental and the right groove. You can order only boards or have a coach help you along – everything is possible with the SUPmobil.
Bookable from 6 boards via email at starnberg@supclubs.de.
Prices for rent or courses see English Tickets
plus
1€/km transport from Tutzing and
10€/board set-up/dismantling
30€/team board Starship set-up/dismantling
Example: 10 boards for the youth hostel in Possenhofen:
14€ (14km) Tutzing – Possenhofen and back + 100€ = 114€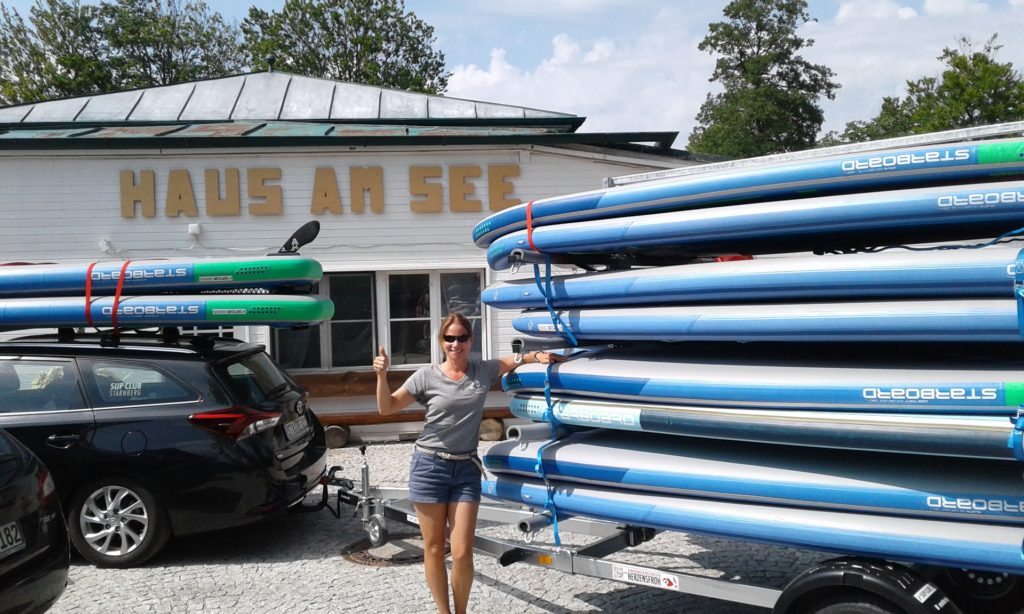 Your SUP program can be training in paddling technique, race, SUP Polo, SUP Yoga or SUP Fitness, just as you like it!
Special offers for stag/hen parties: bachelor/ette party on SUP – it's going to be a legendary day for the bride or groom!
Company outing – B2B Surf has already displaced the golf course in California – if you want to network on the water or simply have fun, it's all up to you
Children's birthday party – let the kids blow off steam on the water including a trainer and cool games
Schools – for your school sports day or even as a teaching subject, we have different programs including teaching material for water sports, environmental issues and more
For the Starnberger See, Ammersee, Pilsensee, Wörthsee, Weßlinger See and Staffelsee, other lakes in the upper Bavarian region on demand.